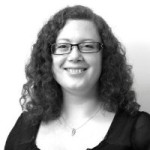 Hi, I'm Corinne Pritchard. I'm an information designer and my services are available for hire. I love getting to the core of information and refiguring it so it makes sense to the reader.
I have been simpli­fy­ing complic­ated docu­ments and design­ing leaf­lets since 2008, and I gradu­ated from the University of Reading with a Masters in Information Design in 2012. I have over a decade's exper­i­ence in web design and content editing.
My infograph­ics have featured in the Daily Mail, press confer­ences for the British Heart Foundation, Parliamentary magazines and Department of Health publications.
I am currently based in the Netherlands.
Email: c.pritchard@simplyunderstand.com
Phone: +31 6 57737985
Skills
Simplification — copy edit­ing, design and podcast services for web, print and communications
Visualisation — video, infograph­ics, inter­act­ive and graphic repres­ent­a­tions of processes and data
Design — web, inter­ac­tion, user exper­i­ence and print design
Consultancy — advice and meth­ods for making your web, mobile, print and commu­nic­a­tions projects more effect­ive, user-friendly and user-focused. Also avail­able for wayshow­ing and wayfind­ing projects.
I am also avail­able as a speaker on simpli­fic­a­tion, plain language and inform­a­tion design issues.
Costs
My rates depend on the job and are always negotiable.
Reviews
"The work Corinne did for our consulta­tion on credit cards was remark­able, creat­ive and beautifully-presented. On a very short times­cale, she turned a 100-page docu­ment into 10 crisp, read­able pages bring­ing credit card policy to life for every­day consumers. The accom­pa­ny­ing podcast summary she arranged was magni­fi­cent: clear, straight­for­ward and enga­ging." — October 28, 2009

"Corinne is an excel­lent copy­writer who condensed a long-winded dry and complex consulta­tion docu­ment into a friendly, easy to under­stand concise two pager which she styled beau­ti­fully. She then recor­ded a great podcast explain­ing the issues, in this case the complex­it­ies of credit card agree­ments. That piece of work produced fant­astic results and became one of our most popu­lar consulta­tions ever. Corinne also worked incred­ibly quickly — a seri­ous plus when deal­ing with govern­ment, as was tremend­ously good value. Would defin­itely hire her again. Impressive." — April 27, 2011