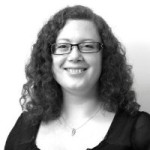 Hi, I'm Corinne Pritchard. I'm an information designer and my services are available for hire. I love getting to the core of information and refiguring it so it makes sense to the reader.
I have been simplifying complicated documents and designing leaflets since 2008, and I graduated from the University of Reading with a Masters in Information Design in 2012. I have over a decade's experience in web design and content editing.
My infographics have featured in the Daily Mail, press conferences for the British Heart Foundation, Parliamentary magazines and Department of Health publications.
I am currently based in the Netherlands.
Email: c.​pritchard@​simplyunderstand.​com
Phone: +31 6 57737985
Skills
Simplification – copy editing, design and podcast services for web, print and communications
Visualisation – video, infographics, interactive and graphic representations of processes and data
Design – web, interaction, user experience and print design
Consultancy – advice and methods for making your web, mobile, print and communications projects more effective, user-friendly and user-focused. Also available for wayshowing and wayfinding projects.
I am also available as a speaker on simplification, plain language and information design issues.
Costs
My rates depend on the job and are always negotiable.
Reviews
"The work Corinne did for our consultation on credit cards was remarkable, creative and beautifully-presented. On a very short timescale, she turned a 100-page document into 10 crisp, readable pages bringing credit card policy to life for everyday consumers. The accompanying podcast summary she arranged was magnificent: clear, straightforward and engaging." – October 28, 2009

"Corinne is an excellent copywriter who condensed a long-winded dry and complex consultation document into a friendly, easy to understand concise two pager which she styled beautifully. She then recorded a great podcast explaining the issues, in this case the compexities of credit card agreements. That piece of work produced fantastic results and became one of our most popular consultations ever. Corinne also worked incredibly quickly – a serious plus when dealing with government, as was tremendously good value. Would definitely hire her again. Impressive." – April 27, 2011